Welcome to the Delaware Theater Association!
The Delaware Theater Association (DTA) is an organization founded to support performance arts in Delaware. Delaware is part of the ESTA-Eastern States Theater Association,Inc. (ESTA) which, in turn, is Region II of the American Association of Community Theaters (AACT).
What is DTA?
Delaware Theatre Association is a resource for member theaters providing them networking assistance and serving as an advocate for their community theater to other state arts organizations.
DTA sponsors and promotes an annual One Act Festival showing off the best and brightest of the Delaware community theater scene. The festival is scheduled to include: winning productions from each member theater, performance adjudication by experienced people, and opportunities to network with people from other theaters and states. The winner of the annual DTAFest moves on for additional competition, adjudication and networking at the ESTA regional level
New Pricing Structure
DTA will institute an OPTIONAL pricing schedule for dues and fees for both member theaters and individual members. Following is an extract from the letter sent by Ruth & David to theater members explaining the new pricing structures:
'''As treasurer of DTA, I am happy to co-issue this notice with DTA Secretary, David Sokolowski, to explain the details of a new OPTIONAL pricing option for your consideration which is effective January 25, 2015. While DTA dues and festival fees have not changed in the past few years, DTA realizes that theaters have been and continue to struggle to find the monies necessary to be part of the competition cycle. DTA also realizes the value of adjudication and the networking that is a key part of a festival appearance and wants everyone to have this experience!
DTA is RETAINING the existing fee structure, which consists of separate payments for annual dues ($30), festival submission ($35) and participant fees ($5) together with festival Adult patron ticket prices ($20). THESE FEES REMAIN in place with one addition!!
OPTIONALLY, DTA has structured a theatre membership option that will save each theatre 25% off these individual payments. This new fee is $123. Included in this one time fee are:
• Payment of annual organization dues • One festival submission fee
• Five (5) cast & crew participant fees ... ($15 will remain the fee for each crew member more than 5)
• Five (5) festival Adult patron tickets discounted to $15/each (not useable for additional cast and/or crew)
• One (1) theatre representative for the DTA Board of Directors to serve as an Member-at-Large. This position does not include a voting right but does include the ability to share theatre concerns with DTA. When this amount is paid, please indicate the name and email of the theatre representative so that they can receive Meeting Minutes and other DTA related communications. This representative is available for each theatre to name whether the original $30 or the new $123 is paid.
DTA has also structured an individual membership option, which will save each person 25% off individual payments. This new fee is $20. Included in this annual fee are:
• Payment of annual individual (Member at Large - MAL) dues
• Two (2) FREE festival Adult patron tickets This is new work by DTA in a continuing pattern of helping the membership remain and grow with DTA.
If you choose to pay the optional fees for 2015, discounted fees are due by February 15, 2015. If you choose to pay the existing fees for 2015, then annual membership fees are due by February 15, 2015.
In the future, your choice of fees will be due no later than January 15, 2016 and beyond.'''
DTA bids farewell to a longtime friend of community theater
On October 1st community theater lost one of it's guiding lights. Sherman C. Ward jr. passed quietly at his home on the St. Lawrence River on land and water that he played and sailed on as a child.
For over 50 years Sherman had participated as actor, director, set designer, playwright and board member of theaters in New Jersey and New York. He was also a founding member of ESTA and was instrumental in the ESTAfest becoming an outlet for original plays for new playwrights.
In 2011, at the national AACTfest Sherman was awarded a fellowship by AACT for his many years of contribution to community theater.
Sherman was also an accomplished painter and sculptor; his work being display and sold throughout the northern New York region. He also assisted in the design of the new ESTA logo.
Sherman and wife Ann Bodie Ward were constant attendees at many state, regional, national & international play festivals.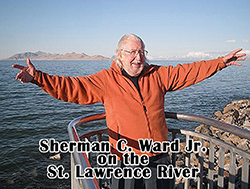 Sherman on the river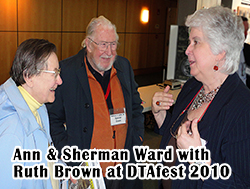 Ann & Sherm At DTA fest 2010



DTA Board Members
President:
Jeff DiSabatino
Secretary:
David Sokolowski
Treasurer:
Ruth K. Brown
Directors at Large:
Ann Stevens
Brian Miller
Boden Day
Members at Large:
Max Beaver
Mike Barko
Christopher "Jumbo" Schimpf
DTA Mission
Delaware Theater Association has a very simple mission and that is to provide support for every type of non-professional theatrical organization in the state of Delaware. To DTA non-professional means community and youth groups of all types. By providing this support, we intend to:
Help casts and crews create on-stage the best productions they can
Provide education in areas where it is currently lacking for the needs of community and youth theaters
Promote writing of new plays of all types and lengths
Promote production of new plays of all types and lengths
DTA By-Laws
To view the DTA By-Laws, please download the PDF below.

Interested in Becoming a Member of DTA?
If you or your organization would like to become a member of DTA, please download and complete the membership form provided below.

Member Theatres


Able Arts
Wilmington, DE
www.ablearts.org

Cape Henlopen
Theatre Academy


Possum Point Players
Georgetown, DE
www.possumpointplayers.org


Reedy Point Players
Reedy Point, DE
reedypointplayers.com


Second Street Players
P.O. Box 470
Milford, DE 19963
www.secondstreetplayers.com


Wilmington Drama League
Wilmington, DE
www.wilmingtondramaleague.org